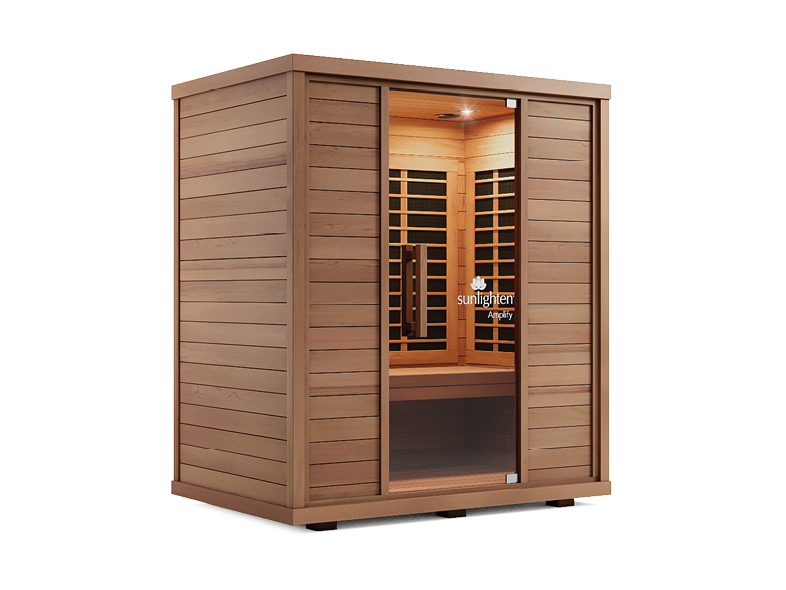 Product Specifications
EXTERIOR

Width: 1,583 mm

Depth: 1,167 mm

Height: 1,973 mm *Height includes .05 mm feet

Door Opening: 711 mm

WEIGHT

Basswood: 269 kg

Eucalyptus: 317 kg

HEATER

5 FIR
2 Full Spectrum (500W each)
*No floor heaters

INTERIOR

Width: 1,442 mm

Depth: 1,014 mm

Height: 1,785 mm

ELECTRICAL

230v  1900w  8.19a
NS-17 outlet

BENCH

Width: 1,438 mm

Depth: 514 mm

Height from Floor: 496 mm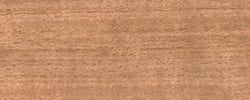 Eucalyptus
Ultra Premium Appearance
Longevity and Durability
Sustainable/Green/Renewable
Care is taken to ensure consistency on each sauna but there can be slight variations in the color, grain, and texture of each wood compared to what is seen on our website. 
The Amplify full spectrum sauna gives you maximum physical benefits and time savings at an affordable price. Here's what you'll experience with an Amplify 3 person sauna:
The Amplify III delivers what its name promises because of the unique full spectrum heater mix. Two heater types work together. Sunlighten's patented SoloCarbon far infrared heaters send the high quality and high quantity infrared wavelengths that penetrate deep tissue, halogen heaters push the air temp up to 78.3 degrees Celsius, all with Sunlighten's proprietary design that produces virtually no EMFs.
It's simple to use, heats up fast and delivers the intense heat of a traditional sauna and the deep core sweat of a Sunlighten full spectrum infrared sauna. Get in, sweat hard, get out. No gadgets or bells and whistles. Simple controls allow you to easily adjust the temperature setting to suit your preference if one of your users enjoys a less intense heat. Program the 24-hour timer to have your infrared sauna therapy experience ready whenever you want. Enjoy a productive pause in silence or play your ultimate playlist on your premium sound system while you recover.
The Amplify III
The Amplify III sauna fits an active, busy lifestyle and attitude for one person or up to three. It maximises your sauna time. You'll feel like your session is productive because inside your cabin the higher heat produces a noticeable sweat with 78.3-degree temps. You'll know your time was well spent because Sunlighten's unique SoloCarbon far infrared is clinically proven to penetrate deeper to increase core body temperature. Extend your workout benefits while you recover. Remove the bench to do sit ups, crunches or stretches while the infrared waves penetrate deep, fast and meaningfully to detoxify your body, increase circulation, aid muscle recovery and help relieve pain. Built-in chromotherapy adds another layer of light therapy for energetic balance and mental wellbeing. And, set up and assembly are no sweat using Sunlighten's Magne-Seal locking system. It's an investment in your present and long-term well-being. Amplify III makes it count.
GET PRICING

Other Products in This Family
Our hottest sauna, the compact space lets one person sweat it out with Sunlighten's most effective infrared tech made to maximise the benefits to your body most efficiently and affordably.
Dimensions
Exterior W: 1,293 mm
Exterior D: 1,167 mm
Exterior H: 1,973 mm
Be Inspired
3 min read
First Timers Guide to Sitting in a Sauna
What to expect and how to prep so that your mind and body get benefits long after you've stepped out of the sauna.