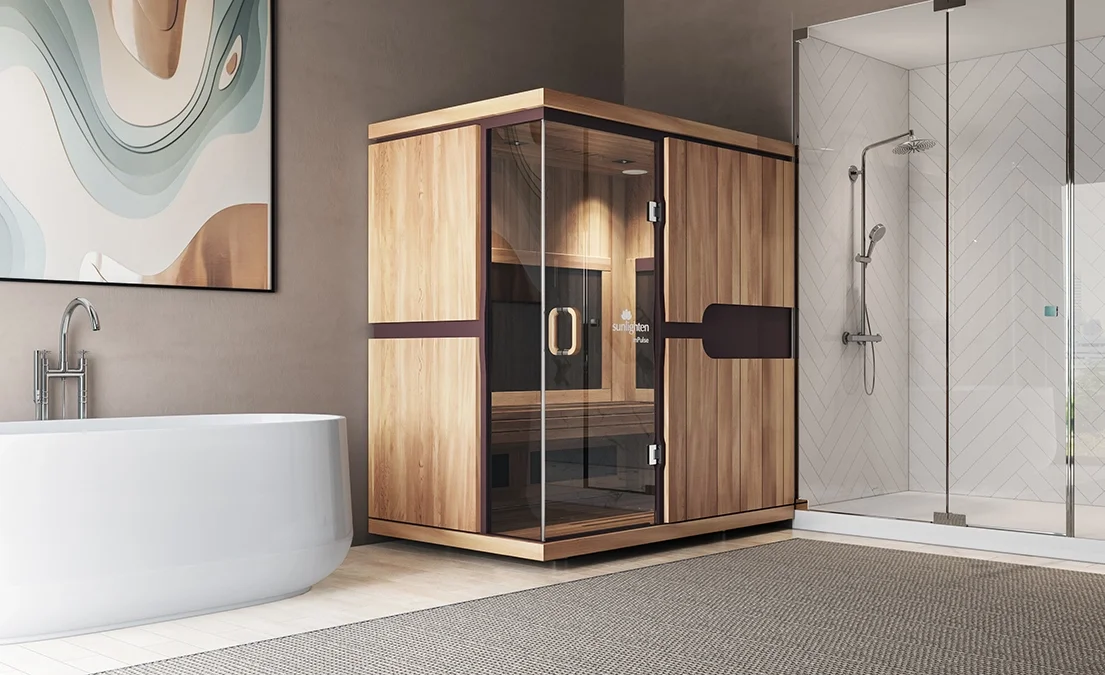 mPulse 3 in 1 Infrared Sauna
CUSTOMIZABLE NEAR, MID & FAR IR SAUNA
Take control of your well-being in Sunlighten's premier, patented 3 in 1 full spectrum infrared sauna. It's the world's first and only sauna that empowers you to customize each wavelength to optimize the specific health benefit you want.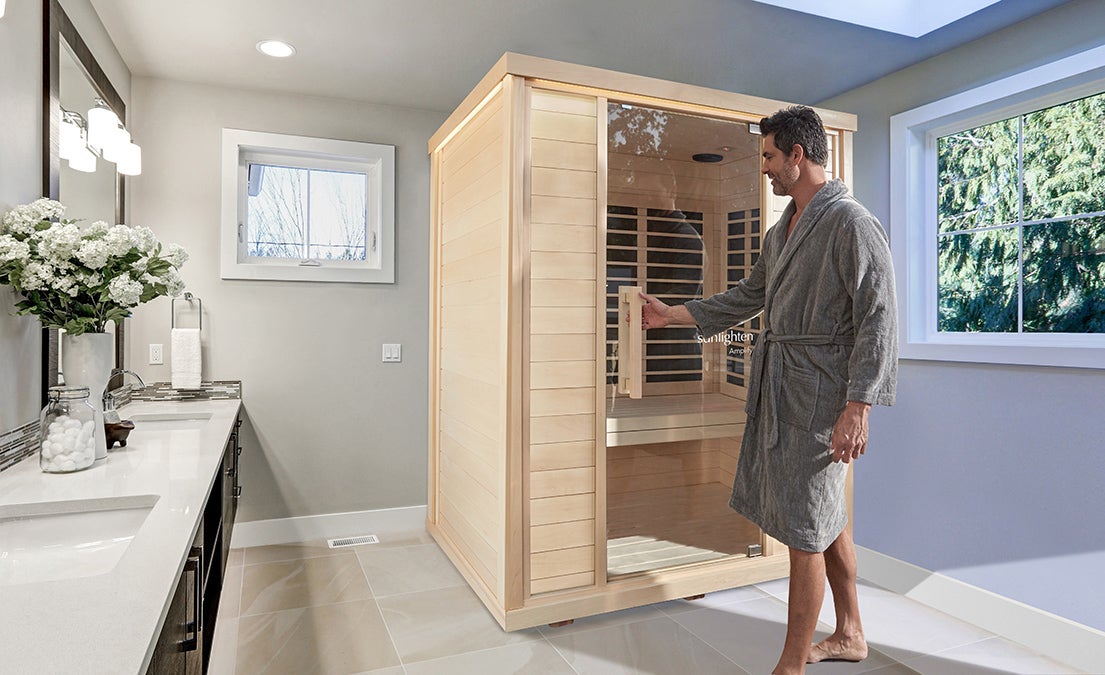 Amplify Full Spectrum Sauna
TAKE YOUR SAUNA SESSION TO THE NEXT LEVEL
You'll sweat deep, sweat fast and feel productive in an Amplify full spectrum sauna. Get the maximum physical benefits of Sunlighten's proven most-effective full spectrum infrared therapy quicker and in a more intense, hotter heat amplified by halogen heaters at a reasonable price.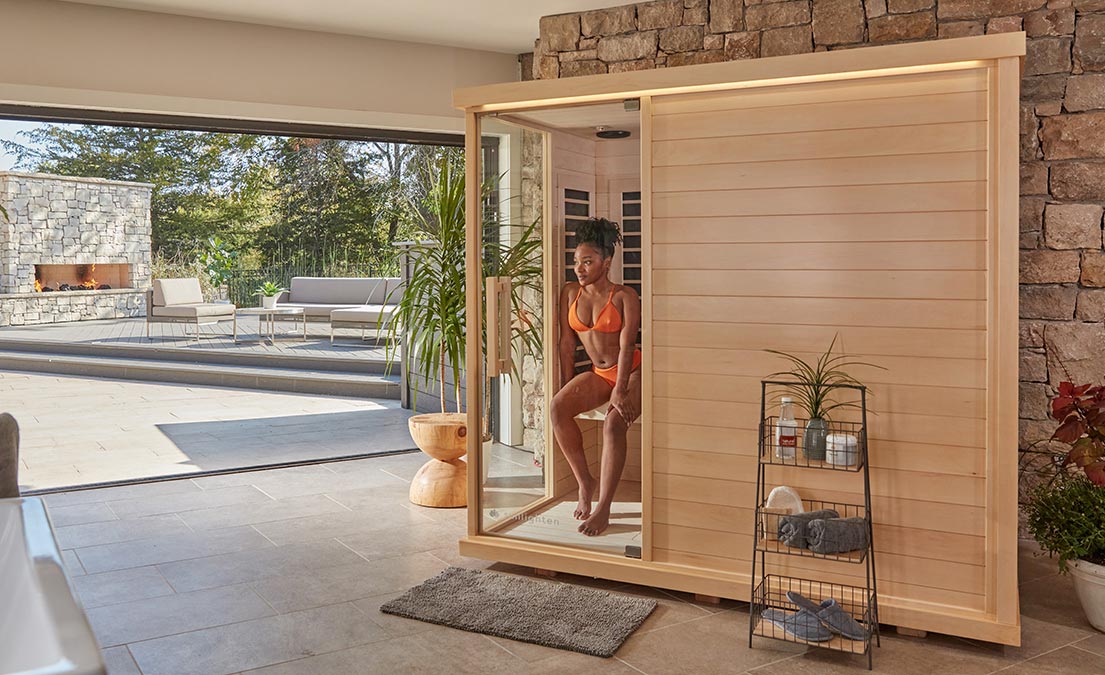 Signature Far Infrared Sauna
MOST EFFECTIVE FAR INFRARED SAUNA
For simplicity and superior far infrared, give yourself a Sunlighten Signature home sauna. In your peaceful sanctuary, enjoy a deep cellular detox and support your overall wellness with the push of a button. The Signature offers affordability and our perfected SoloCarbon® heating technology delivering the highest quality and quantity of far infrared heat.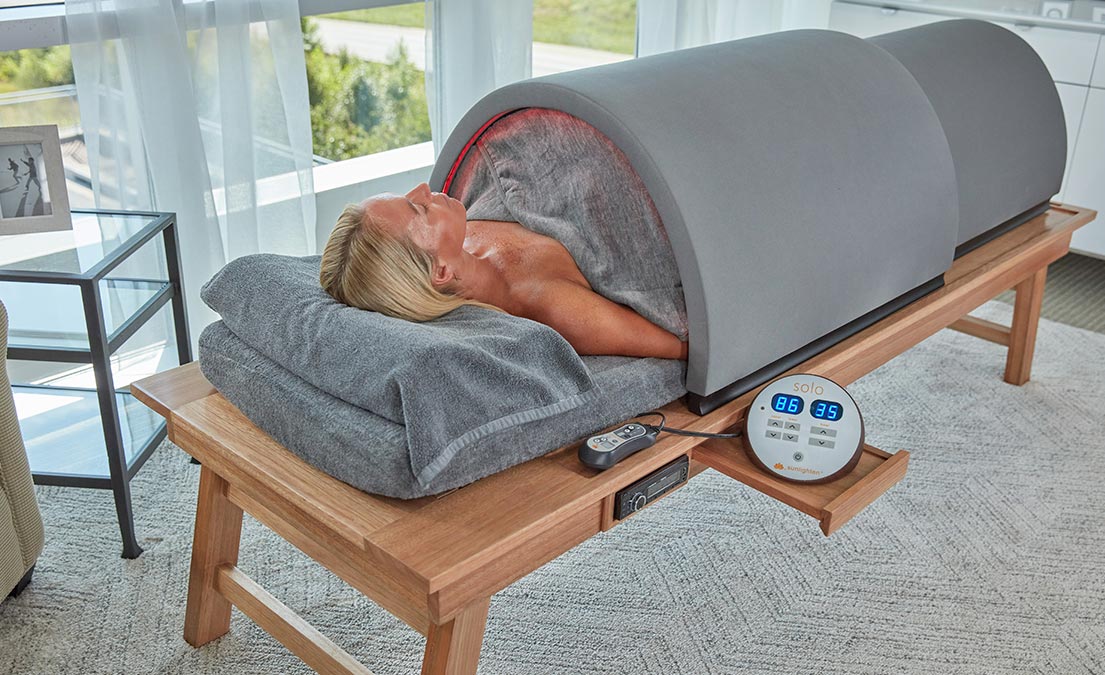 Solo System
PORTABLE FAR INFRARED SAUNA
For rejuvenation and peaceful comfort, surround your body with the proven effects of Sunlighten's patented SoloCarbon® far infrared heating technology. This portable infrared sauna gives you a highly effective detoxification treatment, destresses your mind, boosts immunity and improves circulation with nature's healing infrared. It's comfortable, cost-effective and fun-sized!
Features
Chromotherapy
COLOR THERAPY INCLUDED IN EACH SAUNA
Enhance your sauna experience and transform your mental wellbeing with chromotherapy—colorful beauty that is also beneficial. This lighting feature paints your sauna with colors from the sun's visible light spectrum believed to align with different body energy points, creating an artful atmosphere with a balance-bringing effect on different parts of your body. 
Acoustic Resonance Therapy (A.R.T.)
ADD SOUND THERAPY TO YOUR SAUNA 
Unwind and de-stress even more in your sauna with A.R.T. from SO Sound®. This sonic technology combines the healing effects of sound and vibration to relax your body and calm your mind. You feel  the music you're also hearing. It creates an enhanced sensory experience for better relaxation and rejuvenation.  
Touchscreen Control Panel
YOU CREATE YOUR EXPERIENCE IN MPULSE SAUNAS
Enjoy one-touch access to six pre-installed health programs or customize your own with the 10-inch, Android-powered Control Pad (ACP), offered exclusively in the mPulse Collection. Wifi connectivity allows seamless integration and pushed software updates with ongoing new features.
CELLIANT-infused Products
BOOSTS INFRARED, MAKES EVERY DETAIL COUNT
To maximize infrared's health benefits or create a spa-like experience, Sunlighten infused with Celliant is a dual-purpose fabric that uses Celliant technology woven into our cotton material. We added it to our heater covers, and created accessories specifically for sauna use so you can convert even more body heat to infrared energy, absorb sweat and feel luxurious.