Why Bikram Yoga
Practicing hot yoga helps the body sweat out toxins and allows the yoga practitioner to safely go deeper into poses or stretches. Additional benefits include more lung capacity, better circulation, as well as beneficial for your lymphatic system.
Traditional Bikram yoga is practiced in a room heated to 40˚C (105˚F) to warm the muscles and induce sweat. Warm muscles stretch further and with reduced risk of injury. Because stretching is an effective way to increase flexibility, hot yoga can help improve range of motion, prevent injuries, and help heal from previous injuries.
In addition to these benefits, the heat from our home saunas enable the body to burn more calories in its effort to stay cool while exercising. The heat also helps the body remove toxins by dilating the capillaries, which then helps the body distribute oxygen more effectively to muscles, glands, organs, and other tissues.
Exercise, deep breathing, and meditation have been shown to reduce stress levels; and hot yoga combines all three of these stress-reducing elements. Equally important, because hot yoga increases the pulse rate, the body works to regulate its temperature, increasing calorie expenditure (as does high-impact exercise) but without any harsh impact on joints.
With its ability to assist with weight loss, create a better workout, and reduce stress, it's no wonder why hot yoga continues to be such a popular form of exercise and stands as another example of how you can use Sunlighten saunas for even more health benefits.
Bikram Yoga Poses Inside Any Size Sauna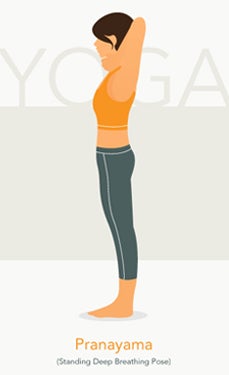 Pranayama (Standing Deep Breathing Pose)
Always start with Pranayama pose to expand your lungs, detox your organs, and increase mental relaxation as well as blood flow.